Control your equipment. Control your costs. Control your game.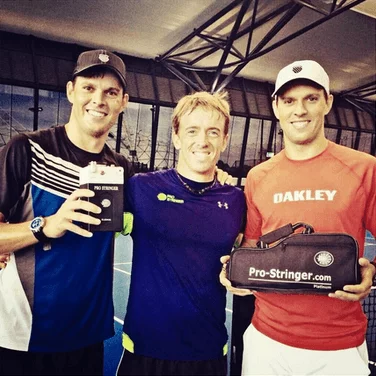 I'm the good lookin' fellow between Mike and Bob Bryan 😉
Hey there! I'm Rubin Statham – an ATP professional tennis player, #1 New Zealand Davis Cupper, and founder of Pro Stringer.

I started Pro Stringer about 10 years ago to address a systematic issue on the professional circuit: the quality & expense of restringing both at home and on the road. Our first year on tour, my twin brother and I spent over $17,000 on restringing labor. To make matters worse, weekly inconsistencies due to different stringing techniques and machines hampered our performance.

Assembling a team of engineers from the United States, Korea, and South Africa I set out to produce the world's first truly portable, accurate, durable, and most importantly affordable electronic stringing machine.

I am proud of the Platinum 2.0 – a product my team and I have worked tirelessly to improve over the past few years through thousands of interactions with our valued customers. Please get in touch with any questions, I would love to help!